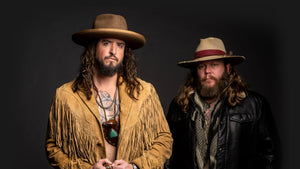 Shop The war Hippies collections
Nine Line has teamed up with Veteran Country Music Duo and our good friends War Hippies!
The country music duo comprised of USMC and U.S. Army combat veterans Scooter Brown and Donnie Reis!!!
Learn About The War Hippies Here!
War Hippies – the country music duo and lifestyle brand from Scooter Brown and Donnie Reis – arrived on the scene in 2022 with a bang and have already garnered widespread critical acclaim for their genuine songwriting and stellar live performances. 
The duo first struck a chord with the release last year of their debut single, Killin' It. The official music video premiered on The Country Network and took the No. 1 spot on the Top 40 Chart, remaining in the Top 5 for more than 20 weeks. It was also the top featured video on CMT.com. War Hippies' second single, The Hangman, also charted on TCN's Top 40 Chart and both singles have landed in top positions on the official VEVO True Country playlist. Their self-titled debut album was released world-wide in October 2022; in its first week, the album reached No. 8 on the iTunes Country chart and No. 30 across all genres. 
With a combined 25 years of touring experience and more than 30 million streams, neither is a stranger to musical success. An award-winning songwriter, Brown has collected numerous industry accolades and toured extensively with Charlie Daniels, Travis Tritt, the Marshall Tucker Band, Whiskey Myers and others, while Reis is a world-renowned violinist who has spent years on the road playing violin/fiddle, keys and guitars and written and recorded hit songs for a variety of artists as well as film and TV projects. The pair's throwback country feel, unique stories and positive message resonates with both fans and fellow artists alike – Randy Travis joined War Hippies on stage for their debut headlining performance and Tritt, along with Chris Janson, added the duo to their 2022 'Can't Miss Tour' months before War Hippies even released their first single. 
On tap for 2023 is new music and more shows with support from Harley-Davidson, all while War Hippies, also USMC and U.S. Army combat veterans, continue their advocacy work supporting fellow veterans and military families. WarHippies.com
Follow on: Spotify  | Apple Music | Pandora | Amazon Music | YouTube | iHeart Radio | Tidal | Deezer